April 2018
LSERSA Summer Race Series - Chatham
29 April 2018
The first round of the LSERSA 2018 Summer Series was held on Sunday 29th April at Chatham. Full results are available on Ski Results.
Individual Event
Stella Pople - 1st in Female U10
Phoebe Everest - 2nd in Female U10
Rufus Wontner - 2nd in Male U10
Ollie Turner-Moore - 3rd in Male U16
Claudette Povey - 1st in Female Senior
Joshua Goodsell - 2nd in Mens Senior
Mark Oliver - 1st in Male Masters 2
Fun Team Event
Toby Everest and Claudette Povey were members of the 2nd-placed team
Rufus Wontner was a member of the 3rd-placed team
Honorable Mention
Ben Wontner - 4th in Male U12
Nigel Hilliard - 4th in Male Masters 2
---
Fun Race Results - 20th April
20 April 2018
The club Fun Race was held on Friday 20th April; full results below: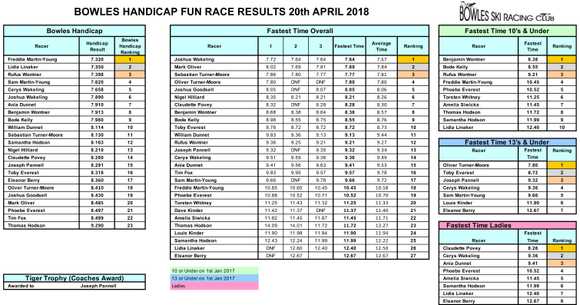 Pictures of the medallists are in the gallery.
---