September 2017
ERSA Outdoor Championships
30 September 2017
The ERSA Outdoor Championships were held on 30th September at Welwyn. Full results are on the ERSA website.
Individual Event
Rufus Wontner - 1st in Boys Under-8
Ben Wontner - 2nd in Boys Under-10
Photos in the gallery.
---
Fun Race - 22nd September
22 September 2017
The club Fun Race was held on Friday 22nd September; full results below: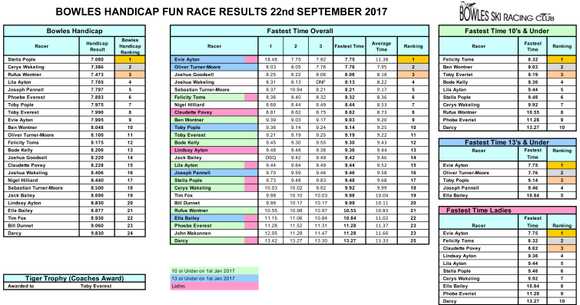 Pictures of the medallists are in the gallery.
---
Snowsports South Race Series - Snowtrax
16 September 2017
The final race of the Snowsports South summer series was held on Saturday 16th September at Bowles. Full results are available on SkiResults.
Individual Event
Evie Ayton - 1st in Female U16
Elle Ayton - 3rd in Female U18
Joshua Goodsell - 2nd in Male Seniors
Nigel Hilliard - 2nd in Male Masters 2
Fun Team Event
Rufus Wontner was a member of the 2nd-placed Team Foxtrot
Season
Elle Ayton - 3rd in Female U18
Claudette Povey - 1st in Female Seniors
Joshua Goodsell - 3rd in Male Seniors
Nigel Hilliard - 2nd in Male Masters 2
---