September 2012
Fun Race and AGM
28 September 2012
The club held a Handicap Fun Race before the AGM on Friday 28th September.
The results table is as follows: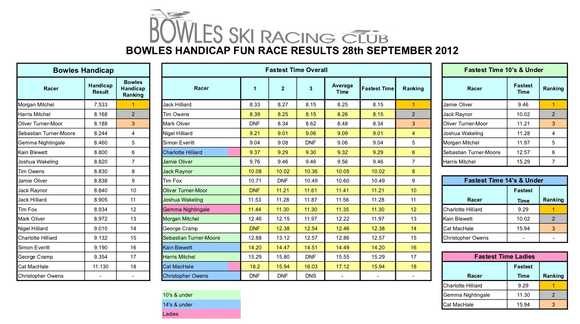 Photos of the medallists are in the gallery.
---
AGM and Fun Race - 28th September
9 September 2012
We will be holding our AGM and fun Ski race on Friday 28th September, with pizzas and medals presented at Bowles after the race.
If you are intending to attend and have not already done so, can you please email Nigel to let him know.
Times will be based on the fastest of 3 runs, with a course inspection (snowplough) allowed in advance. The medals will consist as usual of the following:
Handicap - Winner, Silver and Bronze
Fastest Overall - Gold, Silver & Bronze
Fastest 14 & Under - Gold, Silver and Bronze
Fastest 10 & Under - Gold, Silver and Bronze
Fastest Lady - Gold, Silver & Bronze
The 'Fraser' Trophy for Coaches Award
The 14 & Under / 10 & Under classes are based on age on 1st January 2012. The current handicaps (up to 7th September) are below: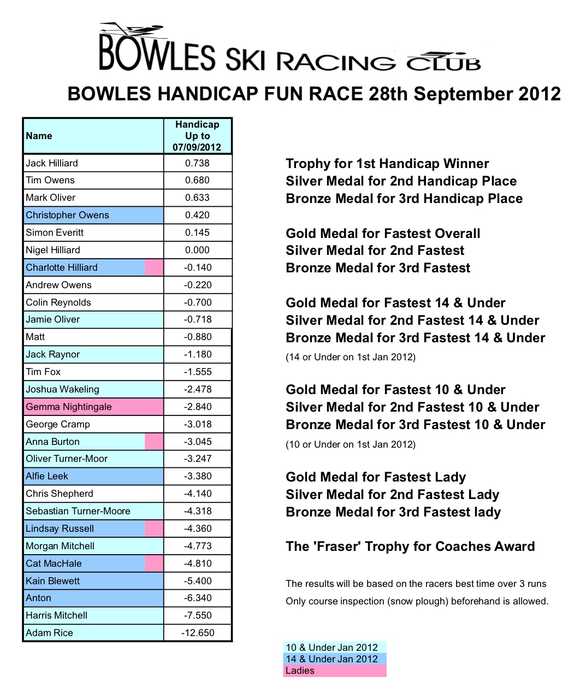 ---