Welcome to Bowles Ski Racing Club's website, the home of Bowles Ski Team. Please look at the News page to see what's going on.
Bowles Ski Racing Club
The club is based at Bowles Residential Outdoor Centre in Eridge Green, Kent, and meets every Friday evening for two hours of slalom ski race training starting at 5:30pm.
We are affiliated to the London & South East Regional Snowsports Assocation (LSERSA) and Snowsports South (SRSA), and members of the club compete regularly in the summer race series of both organisations.
Our club is open to racers of all ages, but not all members compete. The most important thing is to have fun!
If you can ski confidently and use the lift unaided, you are welcome to join us - please look at the membership page for more details, or get in touch if you have any questions.
---
Latest news (see the News page for more)
Under-11 Fun Race Results - 18th September
19 September 2020
The club Fun Race for 11-and-Under was held on Friday 18th September; full results below: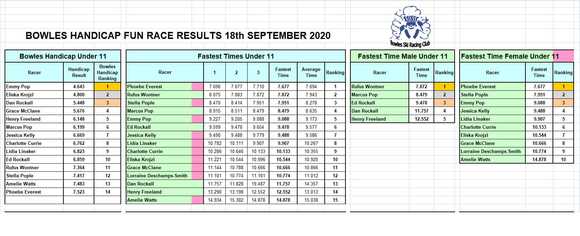 Pictures of the medallists are in the gallery.
---